Version
Download

119

File Size

0.00 KB

File Count

1

Create Date

15/06/2022

Last Updated

15/06/2022
Laporan Denda Custom
You might need this plugin if you don't want to be bothered by counting all the fines fee manually. Extract this plugin into the plugin directory. rename it, like the picture below.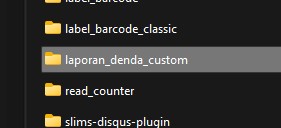 Activate it from the Plugin Sub-menu. You can see this plugin activated within the Reporting Modules.
Enjoy the custom report.